Tour of Chongming Island - 2° tappa
12.5.2011
Teutenberg made it all too easy to get the stage, GC & Points classification lead
Driven by the will to defend last year yellow jersey, Ina-Yoko Teutenberg (HTC Highroad Women) in the yellow gave a devastating sprint which took stage two and the lead in GC and Points classification.
IT was almost leisurely before the second sprint point mark 83.2km, HTC Highroad Women took advantage of strong head wind to form a high-speed train, the total of 18 riders joined the breakaway and all of HTC Highroad riders were on resulted in a 1:20 time advantage.
What made the victory more fantastic was the fact that Teutenberg had sprinted off in the last 100meters with a time of 3:01:02 followed by Annemiek Van Vleuten (Nederland Bloeit) then Charlotte Becker (HTC Highroad Women), Teutenberg also in the lead of GC and Points classification, this spectacular achievement was taken by the most senior 36-year-old rider in the race.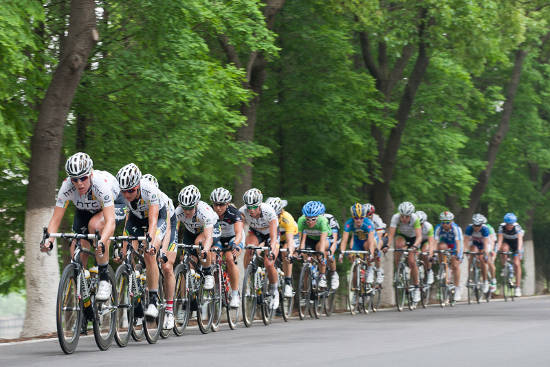 Some of the young riders just a half age of Teutenberg.
"I am the oldest rider so that I have more experienced in a sprint like this, but the top ten are very close, every of them could win the race," said the almost impeccable Teutenberg who has also won the 2010 Tour of Chongming Island.
"I'm happy to win the stage and also take over the yellow jersey. But every day is a new race and we have to be prepared for anything," said Teutenberg.
Team Nederland Bloeit team manager Jeroen Blijevens said "I believed Teutenberg is guarantee to take the yellow jersey tomorrow, I don't seen anyone who could beat Teutenberg in the bunch sprint."
Vluenten is second in GC behind Teutenberg for 17 seconds; the best Chinese rider Zhao Na in 21st behind 2:07.
Today's best Asian rider Maneephan Jutatip (Thailand national team) also flied in breakaway, she said "The Europeans are really amazing; it was hard for me to sit in the high speed train, head wind made the race hard." Zhao Na of China Chongming-Giant Pro Cycling is Jutatip's main competitor, "I think I simply have more luck than Chinese, now we have the same overall time."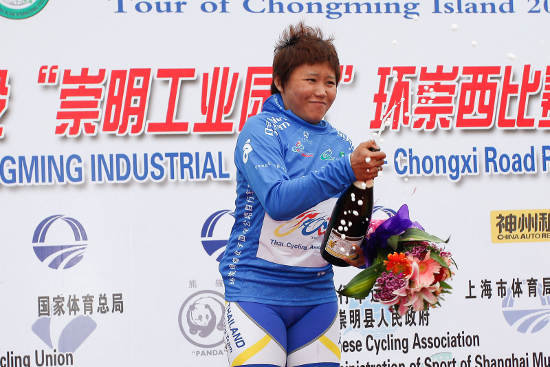 13th, May 2011, final stage will be a 79.2km ride, starts and finishes in the central city of Chengqiao Town and where it will feature three sprint zones. The riders will navigate a wide 7.2km circuit eleven times to cover 79.2km.
TOUR of CHONGMING ISLAND 2011
STAGE TWO RESULTS

1.TEUTENBERG INA-YOKO (HTC HIGHROAD WOMEN) 3:01:02
2.VAN VLEUTEN ANNEMIEK (NEDERLAND BLOEIT) 3:01:02
3.BECKER CHARLOTTE (HTC HIGHROAD WOMEN) 3:01:02
4.JOHANSSON EMMA (HITEC PRODUCTS-UCK) 3:01:02
5.BACCAILLE MONIA (MCIPOLLINI-GIAMBENINI) 3:01:02

GENERAL CLASSIFICATION

1.TEUTENBERG INA-YOKO (HTC HIGHROAD WOMEN) 4:49:57
2.VAN VLEUTEN ANNEMIEK (NEDERLAND BLOEIT) 4:50:14
3.JOHANSSON EMMA (HITEC PRODUCTS-UCK) 4:50:17
4.TAMAYO M LAUREN (USA NATIONAL TEAM) 4:50:23
5.BACCAILLE MONIA (MCIPOLLINI-GIAMBENINI) 4:50:24

Photos/news from: Tour of Chongming 2011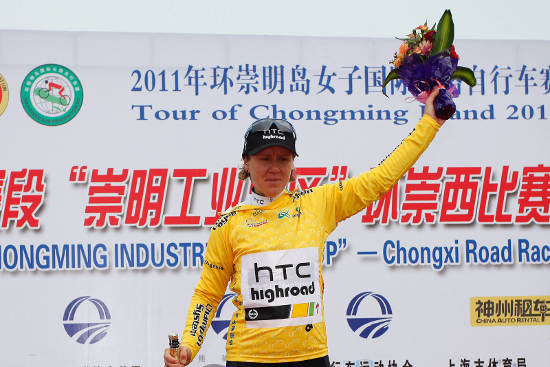 Condividi