Tour of Chongming Island - anche la gara di CdM ad Ina Teutenberg
15.5.2011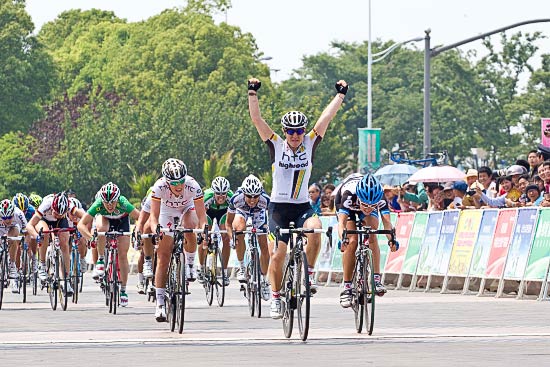 TEUTENBERG DOUBLE WINS IN CHINA, van Vleuten WEARS THE LEADER JERSEY
The race over 136.3km features two sprints and two gentle KOM (Alt. 80m). Ina-Yoko Teutenberg of HTC-Highroad Women continued her last year's momentum and seized the second World Cup wins in China with a time of 3:36:34, Annemiek van Vleuten of Nederland Bloeit grabbed the Women Road World Cup leader jersey from team mate Marianne Vos.
The present overall World Cup leader Vos didn't show up in China because of too many races recently. Van Vluten got 4th this stage and plus 30 points for 188 points surpassed Vos's 185 points so put on World Cup leader jersey.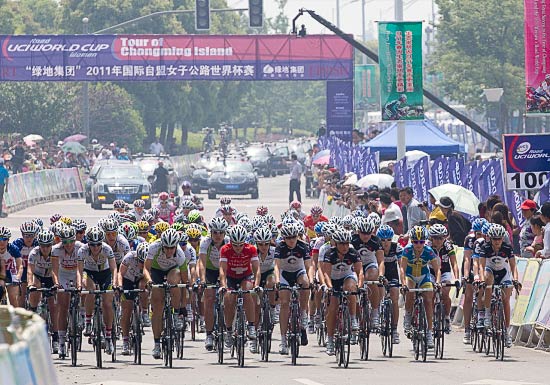 The presently UCI ranked 1st team Nederland Bloeit demonstrated their power to lead the peloton, this Dutch team advanced Hitec-Products-UCK for 172 points which is hard to shake 1st after this stage.
It's a nice sunny day on the alluvial islands close to prosperous Shanghai downtown, Valentina Bastianelli of Vaiano Solaristech flied away soon after the race start, it's like a time-trial for her until 70km mark, HTC-Highroad Women and Garmin Cervelo speeded up to caught Bastianelli after second KOM sprint, quite a smart move Bastianelli earned prize money from one intermediate sprint and two KOM sprints.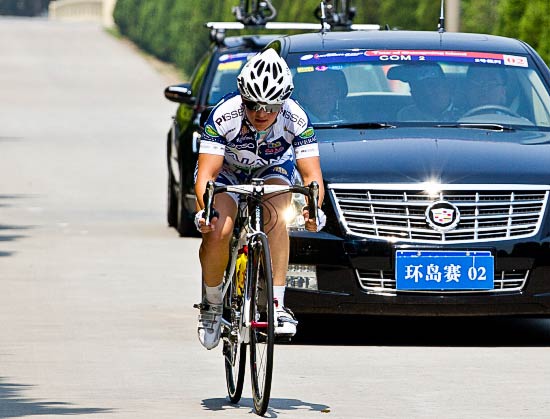 Pro riders fought against the strong wind on the Shanghai Yangtze River Bridge, this 16.5km bridge opened in 2009 which is undoubtedly the most important highlight of this event.
"I am so happy to be in top 3, our team accelerated at the final 3km, it's my first time to ride on such a long bridge, it's strange that head wind and tail wind could have such strong impact," said the 2nd Elizabeth Armistead.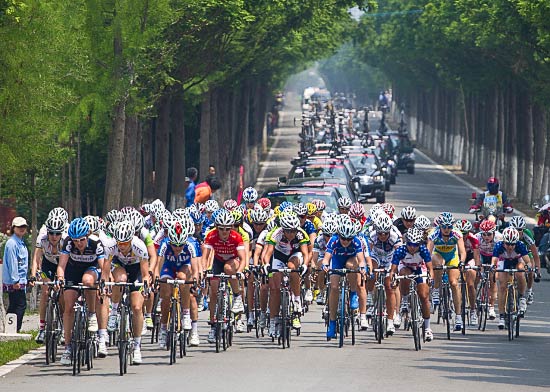 The race course in Chongming Island is almost flat which was good for the big powerful riders like Europeans, comparably, it's a tough race for Asian riders like Supuksorn Nuntana (Thailand National Team) who suffered from the strong head wind on the Shanghai Yangtze River bridge and did not finish.
Before the start last year's champion Teutenberg looked quite relaxed, "I feel good today, we've raced the whole week and my legs are pretty good," said Teutenberg who is both the GC leader and World Cup winner in Tour of Chongming Island, Teutenberg's team mate Charlotte Becker got 3rd.
The World Cup presently overall ranked 3rd Emma Johansson is the only one can take the leader jersey from Nerdeland Bloeit Team, "I will be in the front, try everything I could and launch a devastating sprint but Teutenberg is just too strong so today I just finished 14th," said Emma Johansson of Hitec products – UCK.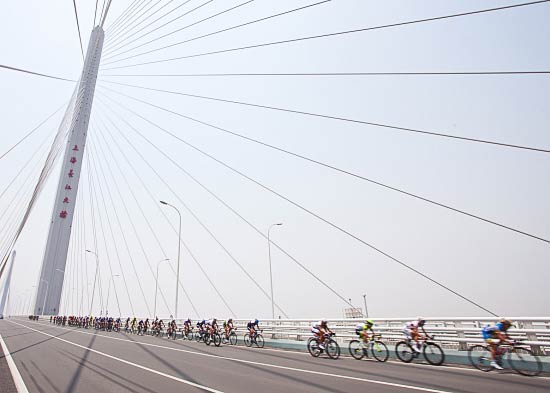 The Chongming Island residents were really happy to host the World Cup, let the world walk into this ecological park, lot of seniors and kids lined up on the street to witness this international race even though they couldn't know how to enjoy a cycling race.
It's van Vlueten second time wore on the leader jersey, "World Cup in Chongming is impressive, I have good luck here, it's a pity that I don't have time to sightseeing in China, two weeks later a lot of races already waiting for me, the same race schedule as Teutenberg", said van Vlueten.
Tour of Chongming Island was originated from China national race to international race, then in 2010 hosted World Cup, from a China local race to international race took 8 years of hard work and it's the only UCI Women Road World Cup race in Asia.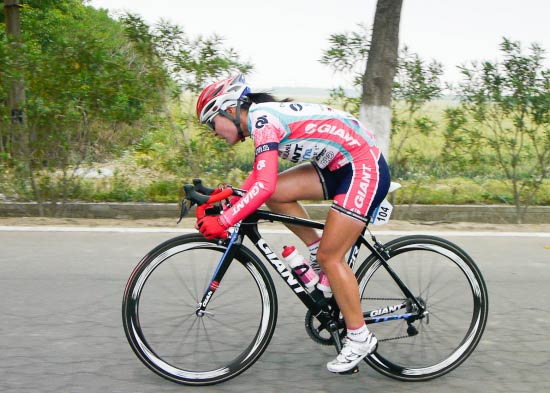 After multi-day race and World Cup in Chongming Island all the riders enjoy the beauty and ecological scenery of alluvial islands, from Shanghai downtown to Chingming Islands takes less than 2 hours, it's called the "secret garden of Shanghai", no matter you want to experience the urban modernization or agricultural master ecological park all lies all in Shanghai.
UCI WOMEN ROAD WORLD CUP RESULTS
TOUR of CHONGMING ISLAND 2011
1.TEUTENBERG INA-YOKO (HTC HIGHROAD WOMEN) 3:36:34
2.ARMITSTEAD ELIZABETH (HTC HIGHROAD WOMEN) 3:36:34
3.BECKER CHARLOTTE (HTC HIGHROAD WOMEN) 3:36:34
4.VAN VLEUTEN ANNEMIEK (NEDERLAND BLOEIT) 3:36:34 
5.LELEIVYTE RASA (VAIANO SOLARISTECH) 3:36:34
6.BACCAILLE MONIA (MCIPOLLINI-GIAMBENINI) 3:36:34
7.KASPER ROMY (GERMANY NATIONAL TEAM) 3:36:34
8.GILMORE ROCHELLE (LOTTO HONDA TEAM) 3:36:34
9.BRONZINI GIORGIA (ITALY NATIONAL TEAM) 3:36:34
10.SÖDERBERG ISABELLE (ALRIKSSON GO:GREEN) 3:36:34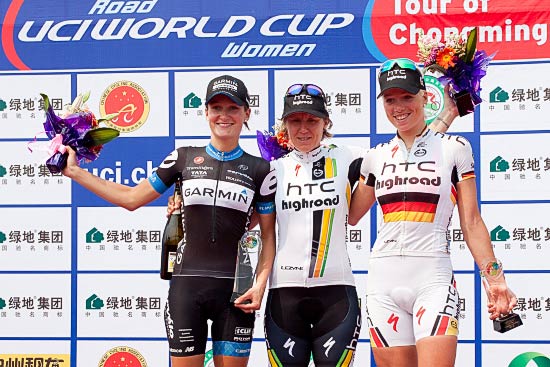 INDIVIAUL WORLD CUP OVERALL RANKING
1.VAN VLEUTEN ANNEMIEK (NEDERLAND BLOEIT) 188 pts
2.VOS MARIANNE (NEDERLAND BLOEIT) 185 pts
3.JOHANSSON EMMA (HITEC PRODUCTS - UCK) 152 pts
TEAM RANKING OF TOUR OF CHONGMING WORLD CUP
1.MCIPOLLINI-GIAMBENINI 10:49:42
2.ITALY NATIONAL TEAM 10:49:42
3.GERMAN NATIONAL TEAM 10:49:42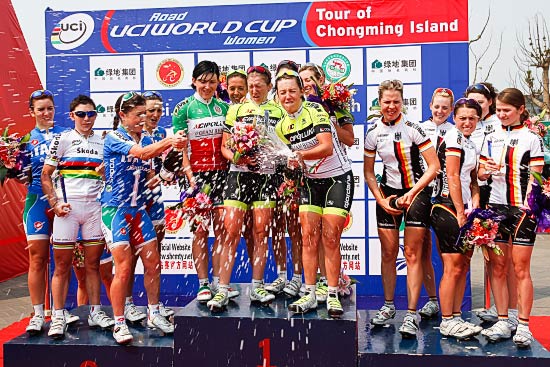 Photos/news from: Tour of Chongming 2011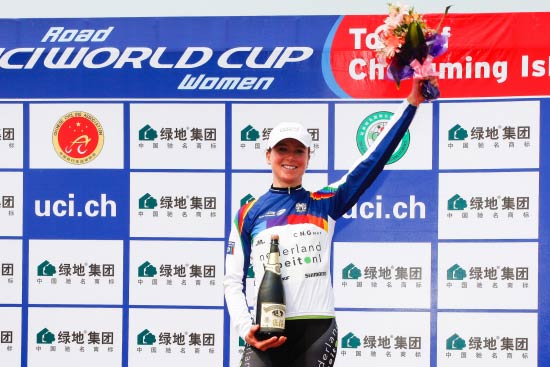 Condividi