Tour of Chongming Island - 1° tappa
12.5.2011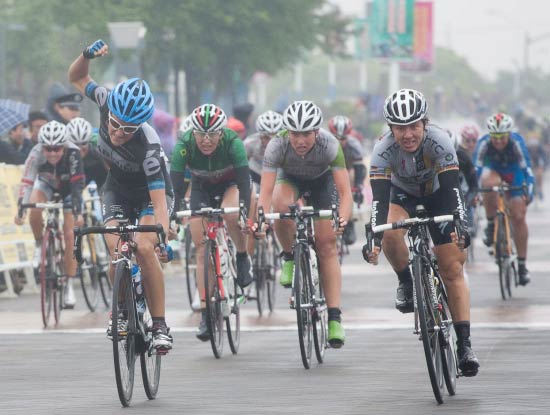 Armitstead shrugs off cold, wind and rain to take stage one of Tour of Chongming island. TEUTENBERG in yellow.
It was considered to be hot and shiny today but turned out to be cold and rainy race. Elizabeth Armitstead (Garmin-Cervelo) took stage one as her first international trophy. Ina-Yoko Teutenberg (HTC Highroad Women) is the leader in the GC and points classification by 11 seconds sprint time bonus.
In spite of the cold, windy and the threat of heavy shower, the 22-year-old Armitstead gave a fantastic sprint to the stage win with a time of 1:49:22 to complete the 73.4km route.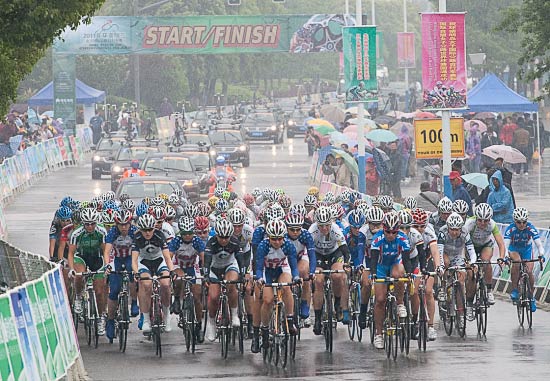 Ina-Yoko Teutenberg who got the yellow jersey of 2010 Tour of Chongming island, today in both GC and points classification lead for 11 seconds time bonus from two sprint points, outshine Armitstead 1 second.
"Cold weather?" replied Armistead after the race. "It's a little bit cold but I have no problem to race in cold."
However, this weather is definitely not well suited for Asian.
Today's best Asian rider Maneephan Jutatip (Thailand national team) said "What a big temperature fluctuation between Thailand and Chongming island today, I prefer to race in hot and today is freezing, but nevertheless I fought all myself to get the ticket for London Olympic."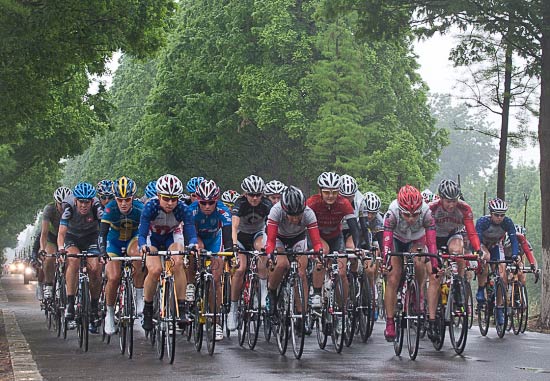 The peloton cruised with no aggressive breakaway, riders stay together to save energy, countless punctures and at least 10 athletes fell down because of slippery road and technical corners, four riders from China Chongming-Giant Pro Cycling team involved so they didn't ride well today, especially the local rider Huang Li felt sorry for her parents and hometown.
"Happiness, sadness all melt in one day."
"It is my second race in China and it is my first Chongming stage win, I'm very pleased to have won in a bunch sprint, I have no confidence I have the leg just gave it an all-out sprint. Today's weather is cold and rainy which was not ideal race condition, I rather fight tough outdoor cycling than stay in office all day long like my parents, I simply enjoy outdoor so I pick up cycling." said Armitstead
Tour of Chongming island is to be held on 11-13 May, over a total of 271km of 3 stages. Tomorrow's Stage Two will be a 118.4km ride from Chengqiao Town again, this time heading north to the top edge of the island and Chongxi province and where it will feature two sprint zones.
TOUR of CHONGMING ISLAND 2011
STAGE ONE RESULTS
1.ARMITSTEAD ELIZABETH (GARMIN CERVELO) 1:49:22
2.TEUTENBERG INA-YOKO (HTC HIGHROAD WOMEN) 1:49:22
3.VAN VLEUTEN ANNEMIEK (NEDERLAND BLOEIT) 1:49:22
4.BACCAILLE MONIA (MCIPOLLINI-GIAMBENINI) 1:49:22
5.JOHANSSON EMMA (HITEC PRODUCTS-UCK) 1:49:22
GENERAL CLASSIFICATION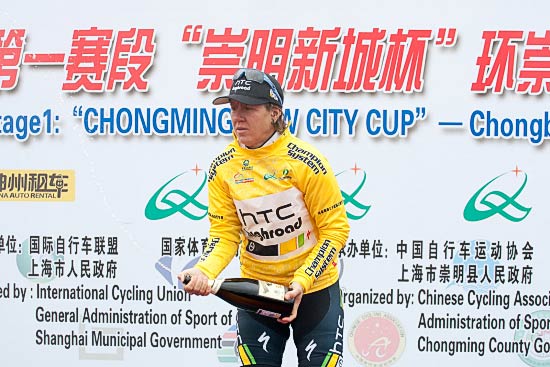 1.TEUTENBERG INA-YOKO (HTC HIGHROAD WOMEN) 1:49:10
2.ARMITSTEAD ELIZABETH (GARMIN CERVELO) 1:49:11
3.VAN VLEUTEN ANNEMIEK (NEDERLAND BLOEIT) 1:49:18
4.JOHANSSON EMMA (HITEC PRODUCTS-UCK) 1:49:20
5.TAMAYO M LAUREN (USA NATIONAL TEAM) 1:49:21
Photos/news from: Tour of Chongming 2011
Condividi